These days, one thing is for certain, and that is that almost every other individual is not satisfied with his or her looks. No matter how great they may look, there are always things that many people do not like when it comes to their physical appearance. As a result, personal beauty and fitness are very popular.
If you are interested in becoming a member of the fitness industry, you are definitely on the right path. Becoming a personal trainer, for example, will open many opportunities and will allow you to pursue an exciting and fruitful career. However, before you become a successful personal trainer, there are some things you need to do.
Certificate
Once you have firmly decided to pursue this career, you will need to pick your certification. Whether you want to study online, from the comfort of your home, or go to a school, you can easily find a plethora of programs and Personal Trainer Courses. If you want, you can also have dual certifications as well. However, before taking a course, make sure it is fully accredited and certified.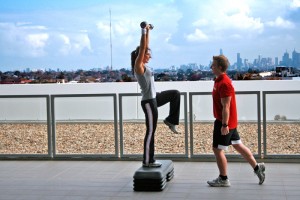 Work On Your Skills
Being a successful personal trainer means being able to practice what you preach. Keep in mind that not all trainers have chiseled bodies, with perfect abs and a lean physique. As a matter of fact, many trainers will admit that they have struggled with their weight at one point in their lives. With this in mind, start by developing your own ideal body and improving your own fitness, so as to properly inspire others and become an exceptional teacher.
Choose Your Specialty
Of course, you can be a general personal trainer. However, if you want to expand your future opportunities, you should consider pursuing a specialty. You can choose to provide specialized fitness education to elderly clients, children, or, say, disabled individuals. Specializing in a particular area can easily give you an edge over your competition and make your job even more fulfilling and rewarding.
Work On Your Personality
Personal trainers are also known for their personalities as well. While there are those that are caring and calm, there are also trainers that promote an almost military-like approach. Here, you should go with a style that perfectly reflects your own personality. Regardless of the fitness style your teach, you should back up your teachings with excellent listening skills and open communication. For that matter, you should focus a good deal on sports psychology and motivation, in order to inspire your clients and provide them with all the support and confidence they need to achieve their fitness goals.
Come Up With A Good Plan
The last step involves coming up with a detailed, long-term plan. Start by setting your business goals and choose your training place and your working hours. You can opt to work for a reputable fitness center, offer private sessions, or start your own gym. Just remember that being flexible here is the key to achieving success.…